Buy Hydro7
Try Risk-free - Satisfaction is Guaranteed with 60-Day 100% Money-back ProtectionLearn More
Hydro7
Sale price Price $119.99 Regular price
Hydro7 - The World's First Hydropump
A perfect choice if you're starting out with penis pumping, Hydro7 was the first hydropump we created. Building real increases for sexual power while improving erectile hardness and stamina, Hydro7 is a gentle yet effective penis pump option that delivers real results.

With regular usage, you'll quickly start to see a real improvement. In most cases, it takes about a month of use to develop highly noticeable gains, but with our full 60-day returns policy, you've got more than enough time to see exactly how well Bathmate hydropumps perform.

The Hydro7 is designed to suit those with an erection length between 5 and 7 inches. If you're looking for a more powerful option in this size, check out our advanced Hydromax7 pump, or head on over to our select your size section if you're looking for a differently-sized penis pump.
---
THE NEXT STAGE OF HYDRO PUMP EVOLUTION
Launched back in 2006 as the Bathmate Hercules, the Hydro7 completely changed the market for penis pumps. Using a unique water-based design, Hydro7 produced better results and was more convenient to use than any other pump on the market.

Since then, we've hugely expanded our selection of hydropumps, releasing more powerful ranges like our Hydromax series to give our customers even better results. The Hydro7 is still going strong, being a fantastic way to start off your pumping journey, with a low cost and relatively gentle level of vacuum making it a top choice for users around the world.
60 DAY MONEY-BACK GUARANTEE, NO QUIBBLES!
It can be difficult to know whether to believe everything that's said about hydropumps. We think the best way to reassure you is to let you see the results for yourself. When you buy through this website, we offer a complete 60-day refund policy.
If you're not satisfied by how your Bathmate hydropump performs (though we're absolutely sure you will be), you can return it for a full refund, absolutely no questions asked. With users typically seeing great results after about a month of regular use, you'll have more than enough time to see the real effects of our penis pumps.
60 DAYS TO DECIDE

NO QUESTIONS ASKED

FULL MONEY REFUND
Terms
This offer is only valid on pumps purchased through this site (www.officialhydromaxpump.com). 60-day period is applicable from the date of purchase, provided on the order confirmation. If you claim a refund for your first 60 days and later decide you want to re-purchase, this offer will no longer be available. This is necessary to avoid abuse of the offer.
SIZE CALCULATOR


You have entered:
0"


in erect length
0"


in erect girth
PRODUCT DETAILS
BATHMATE HERCULES – A TRUE ORIGINAL
Launched over 10 years ago as the Bathmate Hercules, the newly renamed Bathmate Hydro was the world's first water-based penis pump, and has delivered real results for over 1 million worldwide users.
With a convenient design built for use in either the bath or shower, Bathmate Hydro creates excellent results, adding penis length, girth and hardness while improving penile health and opening the door to significantly improved personal confidence.
Over the years, we've developed more powerful penis pump options to deliver even better results and support more users - check out our Hydromax series for 35% more power.
UPGRADE TO OUR BUNDLE DEAL & SAVE
Now includes Deluxe Grooming Kit worth $47.98!
Maximize your Hydromax results with a powerful set of accessories all specifically designed to help you achieve maximum gains. Cut down the cost of our Hydromax Accessories with this bundle, learn more about the bundle here. Bundle includes: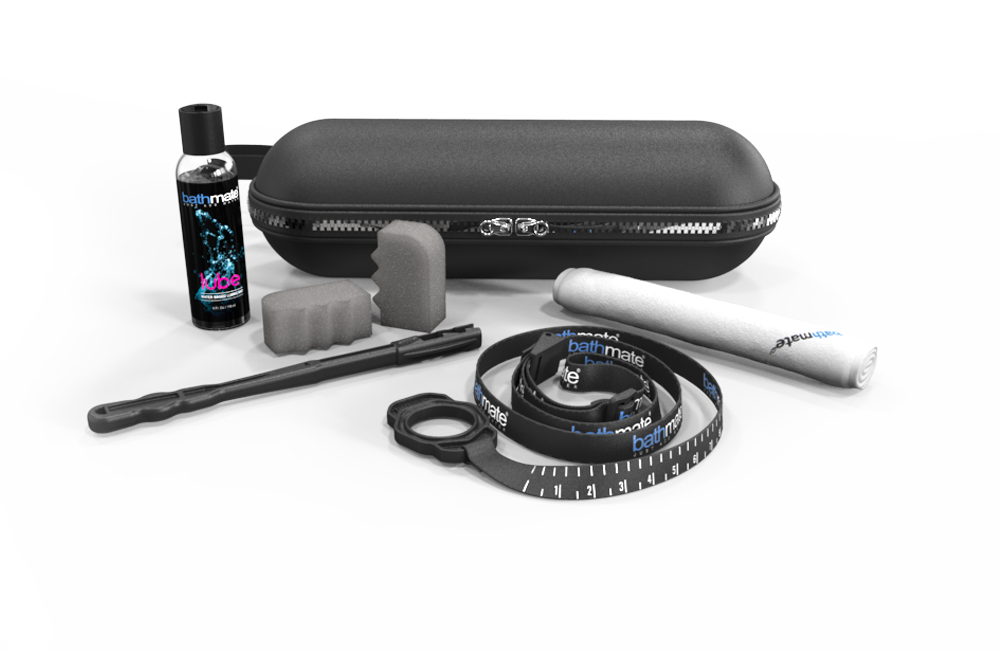 DELUXE GROOMING KIT

TOWEL

SHOWER STRAP
CAPSULE CASE

CLEANING BRUSH

BATHMATE CLEAN
BUYING FROM HYDROMAX
IMPROVE PENILE HEALTH
Boost Blood Flow, Health & Well-Being

Approved by Doctors, Clinically Tested

Improve your Erection Size and Hardness
HIGH QUALITY PRODUCT
Regular Use Improves Length, Girth and Hardness

60-Day No Questions Asked Returns

Free 2-Year Warranty on all Hydropumps
WORLDWIDE SHIPPING
Completely Free Delivery around the World

Discreet Labelling and Packaging

Dispatched From Worldwide Distribution Centres
Seems alright, the suction part at the bottom not 100% even
The Hydro7 is just what the doctor ordered
I am very pleased with my results with my Hydro7. I passed on the jelking , for my own reasons. I would recommend this to a friend. Thank you!
Feels like it works
Feels good and like the idea on how it works! See what happens. I was in a motorcycle accident n down for 3 yrs. Looking to get blood moving again !
SKIN SAFE MEDICAL GRADE MATERIALS
The safety of our customers is extremely important to us. All of our hydropumps are manufactured from specially selected phthalate free, skin-safe and medical grade materials, and each of our hydropump ranges has undergone a custom designed dermatological testing study from Aspen Clinical Research, a world-renowned specialist clinic. With our hydropumps all clinically proven safe for use on the genital area, you can be sure that real Bathmate penis pumps are completely safe to use. Our Hydromax accessories have separately been tested and certified safe to use.
SHARE YOUR EXPERIENCE
Do you have a Hydromax success story you'd like to share?
Tell us about it
SIGN-UP FOR EXCLUSIVE DEALS

Latest Offers, News and Updates
Tell Us About Your Hydromax Experience
Let us know about your experience with our products.
How We're Handling Covid-19
Understandably, a lot of people have asked how we're handling the current situation with Covid-19/ Coronavirus. I want to assure you that we're taking all reasonable precautions, going above and beyond current government recommendations, with many of our staff working from home.
We always work to maintain a large stockpile of our pumps and other products when possible, to minimise disruption in the case of events like this. All of our pumps are made inside our UK factory, where we're taking heightened safety & hygiene measures to ensure the safety of our staff and customers. We're following the situation, with regular meetings to stay on top of any developments.
As a personal message, I hope you're staying as safe as possible, wherever you are.
Close

CHOOSE YOUR REGION
---